Hi, all.
After trying BASSMIDI driver and Coolsoft VirtualMIDI Synth, I was annoyed not only by the input lag, but also by the load time when I opened Synthesia.
However, I found a way to reduce lag significantly by using SyFonOne and ASIO4ALL and since I found no info on these forums, I decided to share how to do it:
1- Download
SyFonOne
here:
http://www.synthfont.com/Downloads.html
(Direct download:
http://www.synthfont.com/SyFonOneSetup.exe
)
2- Download
LoopBe 1
here:
http://www.nerds.de/en/download.html
(Direct download:
http://www.nerds.de/data/setuploopbe1.exe
)
3- Download
ASIO4ALL
here:
http://www.asio4all.com/
(Direct download:
http://tippach.business.t-online.de/asi ... nglish.exe
)
4- Download the general MIDI soundfont of your choice. I like
Musyng Kite
(Formerly Evanessence/Musica 7). It can be found here:
http://www.synthfont.com/punbb/viewtopic.php?id=167
(Get Musyng Kite.sfpack from here:
https://onedrive.live.com/?cid=2b6dbe2d ... 1A1C!19653
.
Musyng (Older version:
https://docs.google.com/uc?id=0B6caGN_Q ... t=download
5- Download SFPack here:
http://www.personalcopy.com/sfpack.htm
(
Direct link: ftp://ftp.personalcopy.net/pub/SFPack.zip)
Link's dead, try this instead:
http://download.softpedia.com/dl/a13d3c ... SFPack.zip
6- Install all 4 programs and copy the soundfont to a safe location.
7- Open SFPack, load the soundfont then click Go! to decompress the soundfont and get a .sf2 file.
8- Open SyFonOne and click Options:
9- Select Loopbe as the MIDI input port
10- Check Use ASIO, then click Show ASIO details and set the slider to 1024 samples.
11- In the ASIO4ALL panel, select your audio output by clicking the wrench and enabling your device's OUT.(Realtek, Creative, etc)
12- Back in SyfonOne, go to SoundFont & Synth tab and click Change to locate your soundfont file.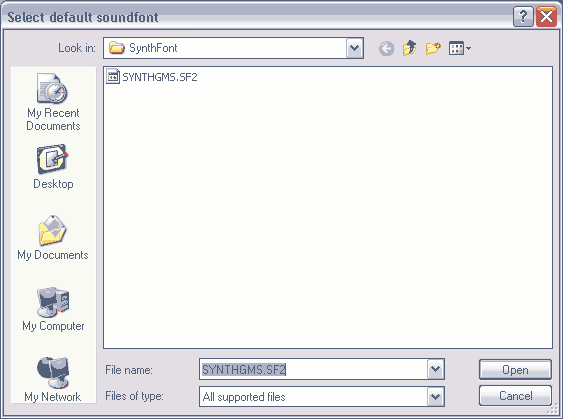 13- FINALLY! Select LoopBe 1 as MIDI output device in Synthesia.
14- Enjoy!
*Hope I didn't miss any step, since I didn't to it exactly in this order.
**Pictures are not mine, I'm too lazy to upload my own XD
***Sometimes (actually, way too often), specially when seeking in Synthesia, LoopBe panics and advices not to connect input to output within a single application, which causes MIDI Feedback, and it is really annoying to have to unmute it every time. I'd appreciate it if somebody had a fix/workaround for this. Meanwhile, I'll try another virtual loopback device and see what happens